Androgynous Geriatric Trainer
Be READY when called into action.
Introducing TERiTM – Our next generation of geriatric medical simulation is here.
A comprehensive male/female elderly patient care trainer for medical simulation. Evolving from our GERiTM full body manikins, it has a more realistic look and feel accurately representing the human anatomy. Weight is distributed to represent a real patient for lifting and carrying.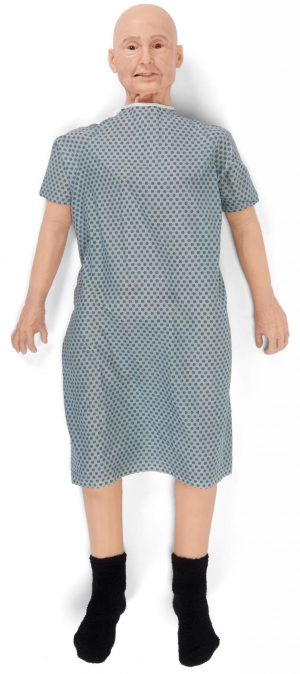 Each version is affordable and durable with upgradable items:
Geriatric Patient Care Trainer1 – General patient care, daily living assistance simulation platform.
Geriatric Patient Skills Trainer2 – Physical skills practice simulation platform with injection/IV, catheterization, cardiovascular and respiratory support.
Geriatric Patient Simulator3 – Comprehensive and complete simulation platform including patient monitoring capability.
PROM: Passive Range of Motion1, 2, 3
Seating, Laying, Finger/Toe Manipulation with No Effort from Patient
Cardiovascular Support2, 3
Carotid Pulses, CPR with Quality Performance Metrics & Auscultation
Intravenous, Injection, Subcutaneous Injection Sites2, 3, optional on 1
Multiple Locations Equipped with Standard Arm IM Injection Pads
Nasogastric Tube Procedures2, 3
Placement, Lavage, Gavage, Feeding and Suctioning
Enhanced Aesthetics1, 2, 3
Soft Silicone Skin with Noticeable Normal and Cancerous Skin Moles, Stage 1 Sacral Ulcer and Reddened Skin Folds
Thanks for requesting additional information about TERi™. One of our Be READY sales associates will be touch with you shortly.
Manual Ventilation with Chest Rise, Oxygen Administration, Tracheostomy Care, Airway/Trach Suctioning. Airway Intubation, Ventilation and Auscultation
Grooming and Daily Living Assistance1, 2, 3
Bathing, Clothing Changes, Denture Placement/Removal, Hearing Aid Placement/Removal, Eye Irrigation & Optic Drops, Ostomy & Urinary Catheter Care, Hair Care
Indwelling Male & Female Urinary Catheterization2, 3
Includes Support for Urethral and Suprapubic Catheters
Urinary Catheterization, Enema Administration, Pelvic and Prostate Examination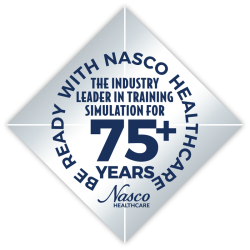 100% hand-made in the USA.