Featuring Life/form® & Simulaids Training Manikins and Medical Procedure Simulators to prepare nursing & all healthcare working and first response professionals to Be READY.
This almost 300-page 2019/2020 catalog is a comprehensive overview of products.
Look out for our 2020/2021 catalog which will be available in Q2 2020.
Stay tuned. We will continue to offer new and exciting product offers.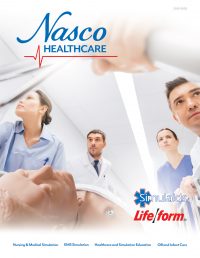 New Products
Patient Simulation
Patient Care
Skills Training
Examination
Obstetrics and Gynecology
Specialized
Basic Support
Emergency Simulation
Moulage
Demo Dose®
Anatomy
Sign-up here to download a digital copy (PDF) and/or a printed hard copy to be mailed to you free of charge.
Our catalog is transforming so please come back often to receive your latest versions.