Are you READY for SimHuddle 2023?
Join us October 17–20 in beautiful Honolulu, Hawaii, for the SimHuddle Conference at the 'Alohilani Resort Waikiki Beach.
We will be featuring our new DANi Teen & Young Adult Advanced Training Solution, along with exciting VR clinic simulation by XR Clinic. Also, we'll be showcasing our AI-driven ALEX Patient Communication Simulator and our always popular TERi Elderly Patient Care Trainer.
We're hosting exclusive demos each day. Don't miss out. Reserve your spot!
XR Clinic by MVR Technologies
Affordable, revolutionary medical training with virtual reality, high resolution graphics and 200+ medical scenarios. Develop diagnostic skills with virtual patients using a variety of medical instruments, medicines, and tests. 
ALEX Patient Communication Simulator
The first Patient Communication Simulator that sees, listens and responds using artificial intelligence (AI) with voice responses in Spanish, French, German and English. Scenario-driven, instructor-controlled.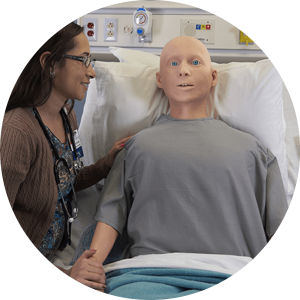 For more information, please contact:
Marlon Hall
South West Regional Director
[email protected]
1-408-603-5408