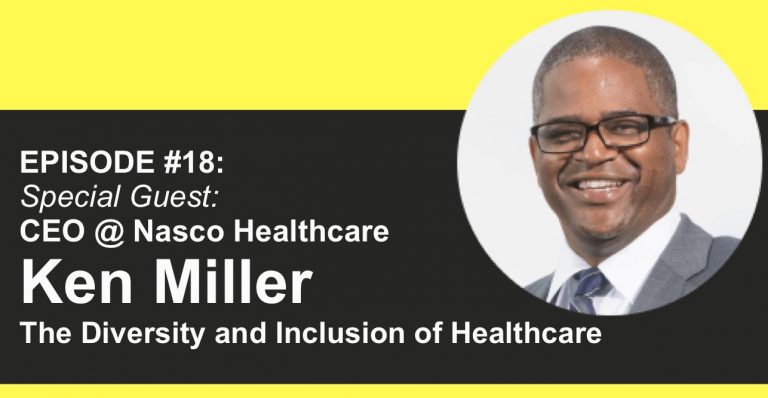 May 7, 2020
Ken Miller discusses Nasco Healthcare's devotion to diversity and inclusion and his own experience as an African American business leader on Choose Inclusion Podcast's latest episode, which aired May 5, 2020 on the podcast's website and streaming platforms. Ranking at #3 on Feedspot's Top 15 Diversity and Inclusion Podcasts for 2020, Choose Inclusion Podcast helps businesses achieve diversity, equity, and inclusion through conversations with influential guests.
Ken Miller says, "I've always tried to find a way to connect with the communities we serve and make an impact."
Giving back and making a difference has been a motivating factor throughout Ken's 30-year career, including his decision to work in the healthcare industry. As a president and CEO, he hopes to set the stage for more diverse leaders in the healthcare industry including African Americans, Latinos, and women
Building a more diverse and inclusive workforce at Nasco Healthcare is extremely important to Ken as the organization globally expands its business. Working with his leadership team and the Human Resources Department, he does this by intentionally recruiting and hiring from a diverse pool of candidates.
Ken Miller says, "I believe that we will be a lot more knowledgeable, compassionate, understanding, and better capable of meeting the needs of those markets if, in fact, we have them represented on our teams."
During this COVID-19 pandemic, it is more important than ever to instill inclusion and compassion into current and future frontline healthcare workers, who are serving and treating those in underrepresented communities. Ken says this starts by creating curriculum and training solutions are representative of this reality. 
Ken Miller says, "[Nasco Healthcare] develops training curriculum that speaks about the dynamics of these different communities, as well as different potential patients in terms of what they may suffer from or the environment in which they may live."
To listen to the podcast, visit any of the links below:
About Choose Inclusion Podcast
Choose Inclusion is focused on using their own experiences and the experiences of other underrepresented communities, to give tactical ways to face biases and support the building of more inclusive and diverse teams of people within organizations.